Real estate agent Riviera vip cannes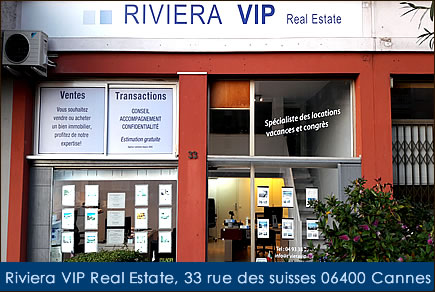 Riviera Vip is located 33 rue des Suisses, in the Suquet area, also called the old town of Cannes.
We specialize in both rentals and sales of apartments and villas in Cannes
Vacation and congresses rentals. We offer apartments and villas for rent, whether it be for your vacation or a business matter during congresses, our services are hotel-oriented and personalized.
We specialize in short term rentals during Congresses: Film Festival, Mipim, Miptv, Mipcom, Cannes Lions, Festival Plaisance, Tfwa, Iltm, Mapic…Our apartments are for the most part located near the Palais des Festivals, the Croisette and the beaches. We also have villas in Cannes, Cannes-Californie, Super Cannes, Le Cannet, Mougins etc…
Ranging from studios to 4-bedroom apartments, all of our properties are in perfect condition, regularly maintained and renovated by their owners. We carefully select each residence for its comfort, furnishings and ease of living. We personally greet each guest and are available to assist them throughout their entire stay. For further information on the properties, their prices and availabilities, please do not hesitate to contact us; we are always very happy to help!
Sale of apartments and villas in Cannes : Ever since our creation in 2002, we pride ourselves in being attentive to our clients' needs. Each person has a different real estate research, it is our business to lead each project to terms. For that matter we accompany you during each step of the sale or purchase you wish to make. We try our best as to advise you in the best possible way during the whole process. We take our job seriously, passionately, kindly and professionally.